As an Amazon Associate, I earn from qualifying purchases at no extra cost to you. Thank You for your support.
Last Updated on July 28, 2023 by
Are you an avid traveler or a camping enthusiast looking to embark on unforgettable adventures? If so, it's time to consider the wonderful world of recreational vehicles (RVs).
Recreational vehicles provide the perfect blend of comfort, convenience, and freedom, allowing you to travel and experience the great outdoors like never before.
But with so many options available, how do you choose the right RV for your needs?
In this ultimate RV type guide, we will walk you through the benefits of RVing, important factors to consider when selecting an RV, an overview of the different types of RV, and essential safety tips for your RV travel.
This article will take around 14 minutes to read – Prefer to just read the key points? Click here.
Benefits of Recreational Vehicles
Owning or renting an RV opens up a world of possibilities and rewards. Here are some of the key benefits.
Flexibility and Freedom
Recreational vehicles allow you to travel at your own pace and explore diverse destinations.
You have the freedom to change plans on a whim, discover hidden gems, and create unforgettable memories.
Comfort and Convenience
RVs provide the comforts of home while on the road. You have a cozy bed, a kitchen to prepare meals, and a bathroom within arm's reach.
Camping Gear SALE!
We have teamed up with Ape Survival to give you a huge 25% off EVERYTHING on their store! They have camping gear, hiking gear, survival gear and much more, all at 25% off when you click the link below.
SHOP NOW
No more searching for accommodations or relying on roadside restaurants.
Cost-Effectiveness
Using RVs can be a cost-effective way to travel. You can save on accommodation and dining expenses and even bring your own food.
Additionally, RV campgrounds often offer affordable rates and amenities.
Quality Family Time
Using recreational vehicles is a fantastic way to bond with your loved ones.
Whether gathering around a campfire, playing outdoor games, or embarking on adventures together, RVing creates lasting memories and strengthens relationships.
Connection with Nature
Traveling via RVs allows you to immerse yourself in nature. Wake up to breath-taking views, go hiking in national parks, or relax by a serene lake.
Experience the beauty of nature first-hand while enjoying the comforts of your RV.
Factors to Consider when Looking for a Recreational Vehicle
When searching for the perfect RV, it's important to consider various factors to ensure it aligns with your needs and preferences.
Here are some key factors to keep in mind:
A. Budget
Establishing a budget is crucial when buying or renting an RV. Determine how much you are willing to invest and consider the upfront costs and long-term expenses such as insurance, maintenance, and fuel.
Camping Gear SALE!
We have teamed up with Ape Survival to give you a huge 25% off EVERYTHING on their store! They have camping gear, hiking gear, survival gear and much more, all at 25% off when you click the link below.
SHOP NOW
Research different models and their prices to find an option that fits your budget.
B. Travel Style and Frequency
Consider your travel style and how frequently you plan to use the RV. Are you a weekend warrior, a seasonal traveler, or a full-time RVer?
Understanding your travel patterns will help you determine the size, features, and amenities required in an RV.
C. Size and Layout
RVs come in various sizes and layouts to accommodate different needs. Think about the number of people traveling with you and whether you prefer a compact RV or one with more spacious living areas.
Consider the number of beds, seating arrangements, storage space, and overall comfort.
D. Towable or Motorized
Choose between a towable RV, such as a travel trailer, or a motorized RV, such as a class B motorhome. Towable RVs require a separate towing vehicle, while motorized RVs have the engine integrated.
Consider your towing capabilities, driving preferences, and parking convenience when making this decision.
E. Amenities and Features
Make a list of essential amenities and features you desire in an RV. Do you need a fully equipped kitchen, a bathroom with a shower, or a generator for off-grid adventures?
Consider your must-haves and prioritize them when exploring different RV options.
F. Storage and Parking
Consider where you will store the RV when not in use and whether you have the necessary space.
Additionally, consider the accessibility of RV parks, campgrounds, and roads based on the size and height of the RV you choose.
Types of Recreational Vehicles
RVs come in a variety of types, each offering unique features and advantages. Let's explore the most popular types of RVs:
1. Class A Motorhomes: The Epitome of Luxury and Comfort
When it comes to RVs, Class A motorhomes reign supreme in size, luxury, and comfort. These magnificent vehicles are the epitome of opulence on the road.
Built on a specially designed chassis, Class A motorhomes resemble buses, exuding a sense of grandeur wherever they go.
Class A motorhomes are at the higher end of the price spectrum due to their size and luxurious features. Prices can range from $100,000 to several million dollars, depending on the brand, model, and additional customizations.
Benefits of Class A Motorhomes
Spacious Living Quarters: With their open floor plans, you'll have ample room to move around and relax comfortably.
Luxurious Amenities: From fully equipped kitchens to stylish bathrooms with showers, Class A motorhomes provide all the comforts of a home on wheels.
High-End Finishes: Premium materials, exquisite cabinetry, and top-notch furnishings create a luxurious ambiance that enhances your journey.
Ample Storage Space: They feature large storage compartments inside and outside the vehicle, allowing you to bring along all the essentials and more.
Key Features
Refrigerator, stove, oven, and microwave.
Spacious master bedroom, sofa beds, or bunk beds.
Shower, toilet, and sink.
TVs, sound systems, and satellite TV options.
Dining area for enjoying meals together.
Slide-outs expand the living space with the push of a button
Climate control systems for maintaining a comfortable temperature inside
Generator for self-sufficient power
Automatic leveling systems
Outdoor awnings and outdoor entertainment setups
2. Class B Motorhomes (Camper Vans): Compact Adventure on Wheels
Class B RV motorhomes, also referred to as camper vans or conversion vans, are compact and versatile recreational vehicles built on a van chassis.
These RVs are designed for solo travelers or couples who prioritize agility and maneuverability on the road.
Despite their smaller size, Class B motorhomes provide essential amenities and a comfortable living space for a memorable camping experience.
They are especially well-suited for urban areas and city exploration due to their easy driving and navigation capabilities.
Class B motorhomes typically range in price from $60,000 to $150,000, depending on the brand, features, and customization options.
Benefits of Class B Motorhomes
Agility and Maneuverability: They offer the freedom to explore urban destinations without the limitations of larger RVs.
Fuel Efficiency: With better mileage compared to larger motorhomes, Class B motorhomes allow you to save on fuel costs.
Versatility: Apart from camping and road trips, they can also serve as a daily driver or a multipurpose vehicle for everyday use.
Essential Amenities: They typically include a functional kitchenette, a bathroom with a toilet and shower, sleeping quarters, and a dining area.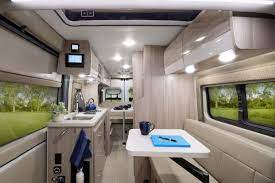 Key Features
Efficient use of space with a compact and streamlined design
Well-equipped kitchenette with a stove, sink, and refrigerator
Convertible bed or a cozy sleeping loft
Compact bathroom with a toilet, shower, and sink
Dining area that can be converted into additional sleeping space
Cabinets, drawers, and overhead compartments
Options for customization and personalization
Advanced technology and entertainment features
3. Class C Motorhomes: The Perfect Blend of Chassis and Living Space
Class C motorhomes offer a fantastic combination of a van chassis and a motorhome living space built on the back.
With their distinctive over-cab area, which can serve as an extra sleeping area or storage space, these mid-sized RVs have become popular among families and larger groups.
Class C motorhomes provide ample living space, making them ideal for those seeking comfort and convenience on their RV adventures.
On average, you can expect to find Class C motorhomes ranging from $50,000 to $150,000, with some luxury models exceeding that range.
Benefits of Class C Motorhomes
Sleeping Capacity: The additional sleeping area in the over-cab space provides extra room for guests or children.
Living Space: This layout provides a well-defined living space, allowing you to enjoy the comforts of home while on the road.
Maneuverability: Class C motorhomes are more maneuverable than their larger counterparts, such as Class A motorhomes.
Versatility: They are suitable for shorter and longer trips, offering the flexibility to explore various destinations comfortably.
Key Features
Spacious interior with a well-defined living area
Bedroom with comfortable sleeping arrangements
Bathroom with a shower, toilet, and sink
Kitchenette equipped with a stove, refrigerator, and sink
Dinette or dining area for meals and socializing
Over-cab area serving as an additional sleeping space or storage compartment
Storage compartments for stowing camping gear and personal belongings
Propane or electric systems for powering appliances and amenities
Options for slide-outs to expand the living space when parked
4. Truck Campers: Versatile Adventurers
Truck camping vans, also known as slide-in campers, are designed to fit snugly onto the bed of a pickup truck.
They offer a cozy and self-contained living space that can be easily loaded and unloaded whenever you're ready to hit the road.
These compact RVs typically feature a sleeping area, kitchenette, bathroom, and storage space, ensuring that all your essential needs are met while you immerse yourself in the great outdoors.
Entry-level truck camping vans can start around $10,000, while more luxurious and feature-packed models can range upwards of $50,000.
Used camper trucks can offer more affordability options, with prices varying based on age, condition, and included features.
Benefits Truck Campers
Off-Road Capabilities: Allow you to venture off the beaten path and explore remote and scenic locations that may be inaccessible to larger RVs.
Versatility: Use your truck independently for daily errands or towing other equipment, providing a seamless transition between camping and everyday life.
Compact Size: Easier to maneuver, park, and navigate through tight spaces, including narrow trails and urban areas.
Fuel Efficiency: Truck campers tend to be more fuel-efficient due to their smaller size and reduced weight compared to larger motorhomes.
Off-Grid Camping: Truck campers are designed to be self-contained, with onboard water tanks, battery systems, and propane for cooking and heating.
Key Features
Cozy sleeping area with a comfortable bed or bunk
Compact kitchenette equipped with various amenities
Bathroom facilities, including a toilet, shower, and sink
Ample storage space for your gear, outdoor equipment, and supplies
Insulated walls and efficient heating systems
Pop-up roofs or slide-outs expand the interior space
5. Travel Trailers: Towable Living Spaces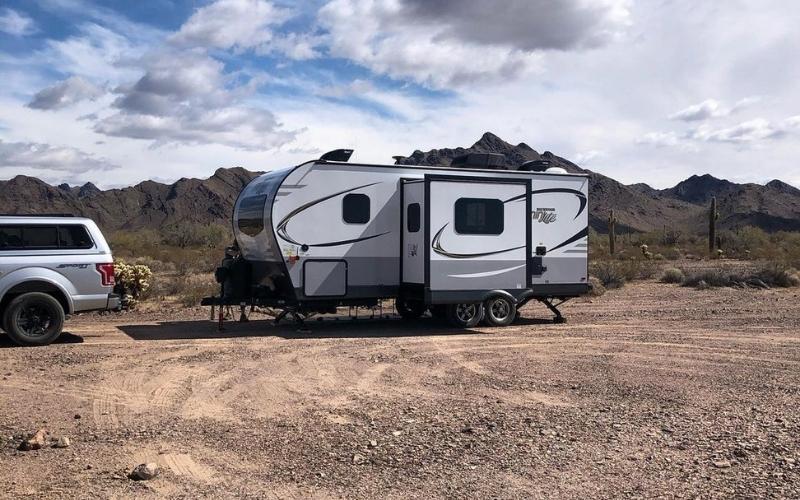 Travel trailers are a popular type of RV that offers the freedom and flexibility of having your own portable living space while on the road.
These towable RVs come in a variety of sizes, layouts, and styles to cater to different preferences and needs.
Whether embarking on a weekend getaway or a cross-country adventure, travel trailers provide a comfortable and convenient home-away-from-home experience.
Smaller and more basic models can start around $10,000, while larger and more luxurious travel trailers can range anywhere from $20,000 to $150,000.
Benefits of Travel Trailers
Versatility: You can set up camp and then use your vehicle to explore your destination, run errands, or simply enjoy the freedom of independent travel.
Spaciousness: Travel trailers provide ample living space for larger groups or families.
Amenities and Comfort: Travel trailers come equipped with a range of amenities to enhance your camping experience.
Customization: Travel trailers offer the opportunity for customization and personalization.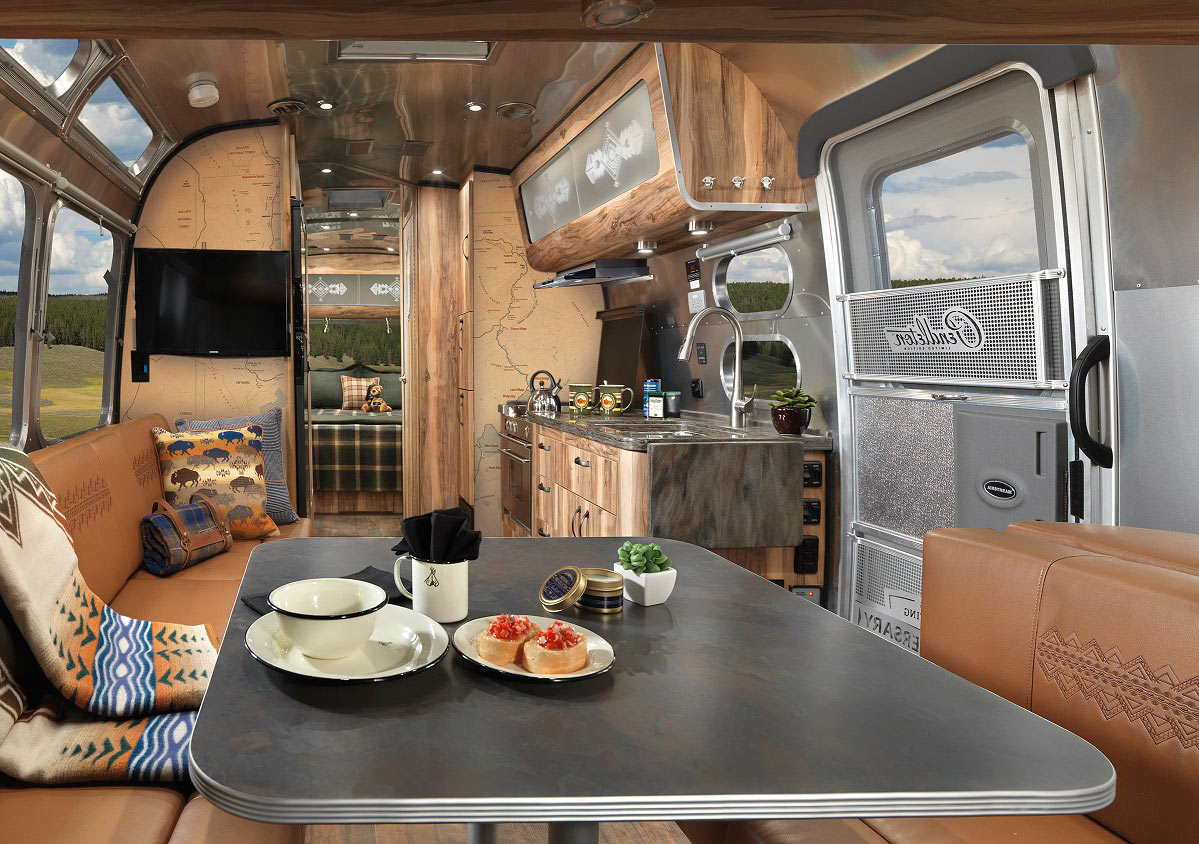 Key Features
Bedroom with various sleeping arrangements
Stove or cooktop, refrigerator, sink, and ample storage
Bathroom with a toilet, shower, and sink
Convertible dining area
Interior and exterior storage compartments
Heating and cooling systems
Entertainment systems
Slide-outs for a more open and roomy interior
6. Fifth Wheels: Expansive Living in a Luxurious Package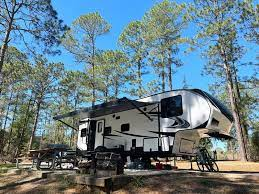 Fifth wheels are the epitome of luxury and comfort in RVs. Similar to travel trailers, these towable RVs are designed to be pulled by a pickup truck equipped with a special hitch installed in the truck bed.
Its unique raised forward section above the hitch sets the fifth wheels apart, creating a bi-level floor plan and offering an abundance of living space.
Fifth wheels can range in price from $30,000 to well over $100,000, depending on factors such as size, amenities, and the level of luxury desired. Luxury models with high-end finishes and advanced features tend to have a higher price tag.
Benefits of Fifth Wheels
Spaciousness: The bi-level design creates separate living areas, making it feel more like a residential space than a typical RV.
Luxurious Amenities: These RVs offer a wealth of luxurious amenities and features, providing all the comforts of home on the road.
Stability and Maneuverability: The hitch's position over the truck's rear axle improves weight distribution and reduces sway.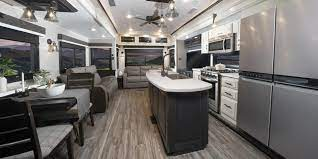 Key Features:
Raised forward section above the hitch
Living space at the push of a button
Separate bedroom space
Full-size kitchens and high-quality appliances
Spacious bathrooms with residential-style amenities
Outdoor living features such as awnings, outdoor kitchens, and entertainment systems
7. Pop-up Campers (Folding Trailers): On-The-Go Travelers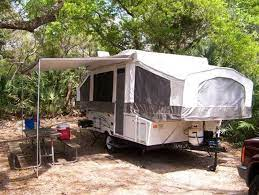 Pop-up campers, also known as folding or tent trailers, offer a unique and flexible camping experience.
These lightweight and compact RVs are designed to fold down for easy towing and storage. When you arrive at your destination, they "pop up" to provide additional living space.
Pop-up campers are like a hybrid between an RV and a tent, combining the comforts of an RV with the feeling of camping in the great outdoors.
One of the advantages of pop-up campers is their affordability compared to larger RV types. On average, you can find pop-up campers in the price range of $6,000 to $25,000.
Benefits of Pop-up Campers
Compact and Lightweight: They are a great choice for those who have smaller tow vehicles or prefer a more nimble RV.
Flexible Camping Experience: You can have a cozy and secure sleeping area while still being able to enjoy the sounds and scents of nature.
Affordability: They provide an entry point into RVing for those on a tighter budget, allowing more people to experience the joys of camping and RV travel.
Easy Towing and Storage: They can be towed by a variety of vehicles, including SUVs, minivans, and even some cars, giving you more flexibility.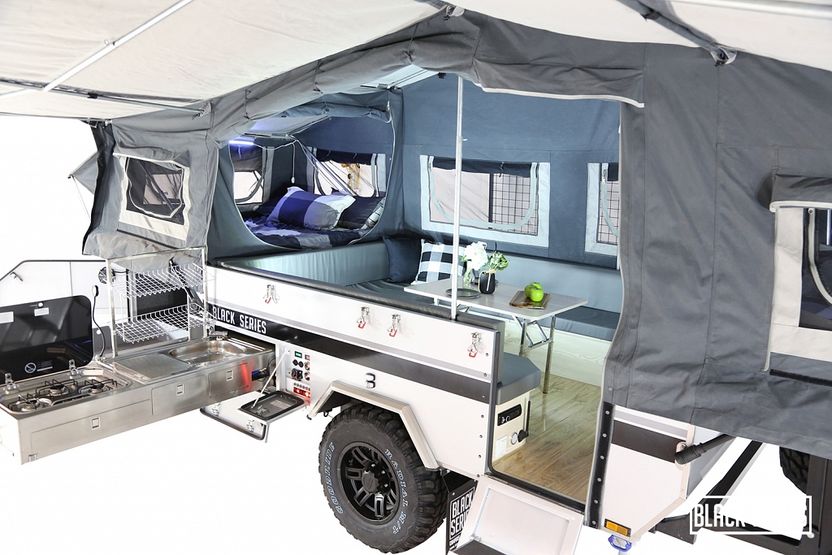 Key Features
Comfortable sleeping areas
Small kitchenette with basic amenities
Cozy spot for enjoying meals, playing games, or hanging out
Storage compartments, a small bathroom with a portable or cassette toilet, and sometimes a shower
Awnings or screened-in porch areas
Safety Tips when Traveling with an RV
Ensuring a safe and enjoyable RV travel experience is paramount. Here are some essential safety tips to keep in mind:
Maintenance and Inspection
Regularly maintain your RV and perform pre-trip inspections to identify any mechanical issues, such as tire wear, brake problems, or electrical malfunctions.
Check the propane system, smoke detectors, and fire extinguishers for proper functioning.
Weight Distribution
Properly distribute the weight within your RV to maintain stability and prevent issues such as swaying or tipping.
Be mindful of weight limits for both the RV and tow vehicle, and use weight distribution hitches or sway control devices when towing travel trailers or fifth wheels.
Driving Safety
Familiarize yourself with the RV's dimensions and practice driving, especially if you are new to RVing.
Maintain a safe speed, keep a safe distance from other vehicles, and use your mirrors effectively. Take breaks as needed to stay alert and avoid driver fatigue.
Campground Safety
Follow campground rules and guidelines, including speed limits and designated parking areas.
Use leveling blocks to ensure your RV is stable on uneven ground. Be cautious of low branches, power lines, and other obstacles when parking or maneuvering your RV.
Propane Safety
Handle propane with care and check for leaks regularly. Ensure proper ventilation when using propane appliances or heaters; never leave them unattended.
Keep fire safety equipment readily available and know how to operate it.
Utilities and Hookups
Understand how to properly connect and disconnect utilities like water, electricity, and sewer.
Use surge protectors and water pressure regulators to safeguard your RV's electrical and plumbing systems.
Weather Awareness
Stay informed about weather conditions and plan accordingly. Be prepared for extreme temperatures, high winds, or heavy rainfall.
Secure awnings, outdoor furniture, and other loose items to prevent damage during inclement weather.
Personal Safety
Be mindful of your surroundings and practice general safety precautions, such as locking your RV when away, keeping valuable items secure, and being cautious of strangers.
Follow campground security guidelines and communicate with fellow campers for a safe and enjoyable experience.
Embrace the RVolution and Let the Adventures Roll!
Choosing the perfect RV is exciting, considering your needs, preferences, and budget.
Whether you prefer a luxurious fifth wheel or flexible pop-up camper, each RV type offers unique advantages.
Hence, be sure to evaluate factors like budget, size, amenities, and storage. Plus, prioritize safety by maintaining your RV, driving responsibly, and following guidelines.
So, ready to embark on unforgettable adventures? Check out CamperAdvise for more resources, tips, and recommendations.
Happy RVing, and may the open road always lead you to unforgettable adventures!
Frequently Asked Questions
Do I need a special driver's license to operate a large RV?
The driver's license requirements for operating large RVs vary by jurisdiction. A standard driver's license is usually sufficient for RVs within a certain weight limit.

However, it's essential to check the regulations of your specific location and consult with the local Department of Motor Vehicles to ensure compliance with the licensing requirements.
Can I tow a travel trailer with my SUV?
The towing capacity of your SUV will determine whether it can safely tow a travel trailer. It's crucial to check your vehicle's owner's manual or consult with the manufacturer to understand its towing capabilities.

Consider the trailer's weight, tongue weight, and your SUV's towing capacity to ensure a safe and comfortable towing experience.
Are pop-up campers suitable for families?
Pop-up campers can be a great option for families, especially those who enjoy camping and want a combination of RV comforts and a tent-like experience.

While they may offer less space than larger RVs, pop-up campers can accommodate sleeping areas, basic kitchen amenities, and dining spaces, making them suitable for family camping trips.
Are truck campers suitable for off-road adventures?
Yes, truck campers are well-suited for off-road adventures due to their off-road capabilities and versatility. Designed to be loaded onto the bed of a pickup truck, they offer the flexibility of detachability, allowing you to use the truck separately for other purposes.

With their compact size and rugged features, truck campers can access remote locations and provide a true off-grid camping experience.
TLDR
🔍 Facts and Summary:
Recreational vehicles (RVs) offer comfort, convenience, and freedom for travelers and camping enthusiasts.
Benefits of RVing include flexibility and freedom, comfort and convenience, cost-effectiveness, quality family time, and connection with nature.
Factors to consider when choosing an RV include budget, travel style and frequency, size and layout, towable or motorized, amenities and features, and storage and parking.
Types of RVs include Class A motorhomes (luxurious and spacious), Class B motorhomes (compact and versatile), Class C motorhomes (van chassis with additional sleeping area), truck campers (fit onto pickup truck beds), travel trailers (portable living spaces), fifth wheels (luxury and ample living space), and pop-up campers (foldable for easy towing and storage).
Safety tips for RV travel include regular maintenance and inspections, proper weight distribution, safe driving practices, campground safety, propane safety, utility hookups, weather awareness, and personal safety.
📝 Recreational vehicles (RVs) provide comfort, convenience, and freedom for travelers; choosing the right RV involves considering factors like budget, size, amenities, and safety precautions.