As an Amazon Associate, I earn from qualifying purchases at no extra cost to you. Thank You for your support.
Last Updated on June 12, 2023 by Ted Mosby
Seeking to explore the natural wonders of the United States? Look no further than the convenience and freedom of RV travel! This blog post presents the top 10 National Parks perfect for RV enthusiasts. Prepare to embark on a memorable journey filled with awe-inspiring landscapes, abundant wildlife, and endless adventure.
The Joys of RV Travel: A Guide for Adventure-Seekers and Park Visitors
RV travel provides a unique and exhilarating means to explore the top national parks. Here are some reasons why RV travel is an excellent choice for adventurers:
Freedom and Flexibility: You can change your itinerary, stay longer at your favorite parks, and discover hidden gems.
Comfort and Convenience: RVs are like mobile homes, providing all the comforts and conveniences you need on the road.
Cost-Effective Travel: By combining transportation and accommodation in one, you can save on hotel expenses and dining costs.
Immersion in Nature: Wake up to breathtaking views, step outside to the fresh air, and experience nature right at your doorstep.
Community and Camaraderie: The shared love for adventure and exploration can lead to lifelong friendships and unforgettable experiences.
Pet-Friendly Travel: Many RVs are pet-friendly, allowing your furry companions to join you on your adventures.
Environmental Consciousness: RVs are generally more fuel-efficient, and by practicing responsible waste management, you can reduce your ecological footprint.
RV-Friendly National Parks: Top 10 Must-Visit
1. Acadia National Park
Located on the rugged coast of Maine, Acadia Park is a paradise for nature lovers and RV enthusiasts alike. Spread across Mount Desert Island, this park offers stunning ocean vistas, towering granite cliffs, and lush forests.
RV-friendly campgrounds such as Blackwoods Campground and Seawall Campground provide the perfect base for your exploration.
2. Arches National Park

Welcome to a surreal landscape filled with magnificent red rock formations in Arches Park, Utah. Delicate Arch, the park's iconic symbol, is a must-see, especially during sunset when it glows with fiery hues.
The Devil's Garden Campground is ideal for RV camping, offering easy access to popular trails like the Fiery Furnace and the Windows Section.
3. Denali National Park
Prepare to be amazed by the rugged wilderness and towering peaks of Denali Park in Alaska. Home to North America's highest mountain, Denali, this park offers breathtaking vistas, pristine lakes, and diverse wildlife.
Explore the park's 92-mile Denali Park Road and get the chance to spot grizzly bears, moose, and wolves. The Riley Creek Campground and Savage River Campground provide RV accommodations for your stay.
4. Everglades National Park
Escape to the unique ecosystem of Everglades Park, a UNESCO World Heritage Site in Florida. Immerse yourself in a vast expanse of marshes, mangroves, and subtropical wilderness.
Camping Gear SALE!
We have teamed up with Ape Survival to give you a huge 25% off EVERYTHING on their store! They have camping gear, hiking gear, survival gear and much more, all at 25% off when you click the link below.
SHOP NOW
Long Pine Key Campground and Flamingo Campground offer RV sites nestled within the park, allowing you to experience the tranquility of this natural gem.
5. Glacier National Park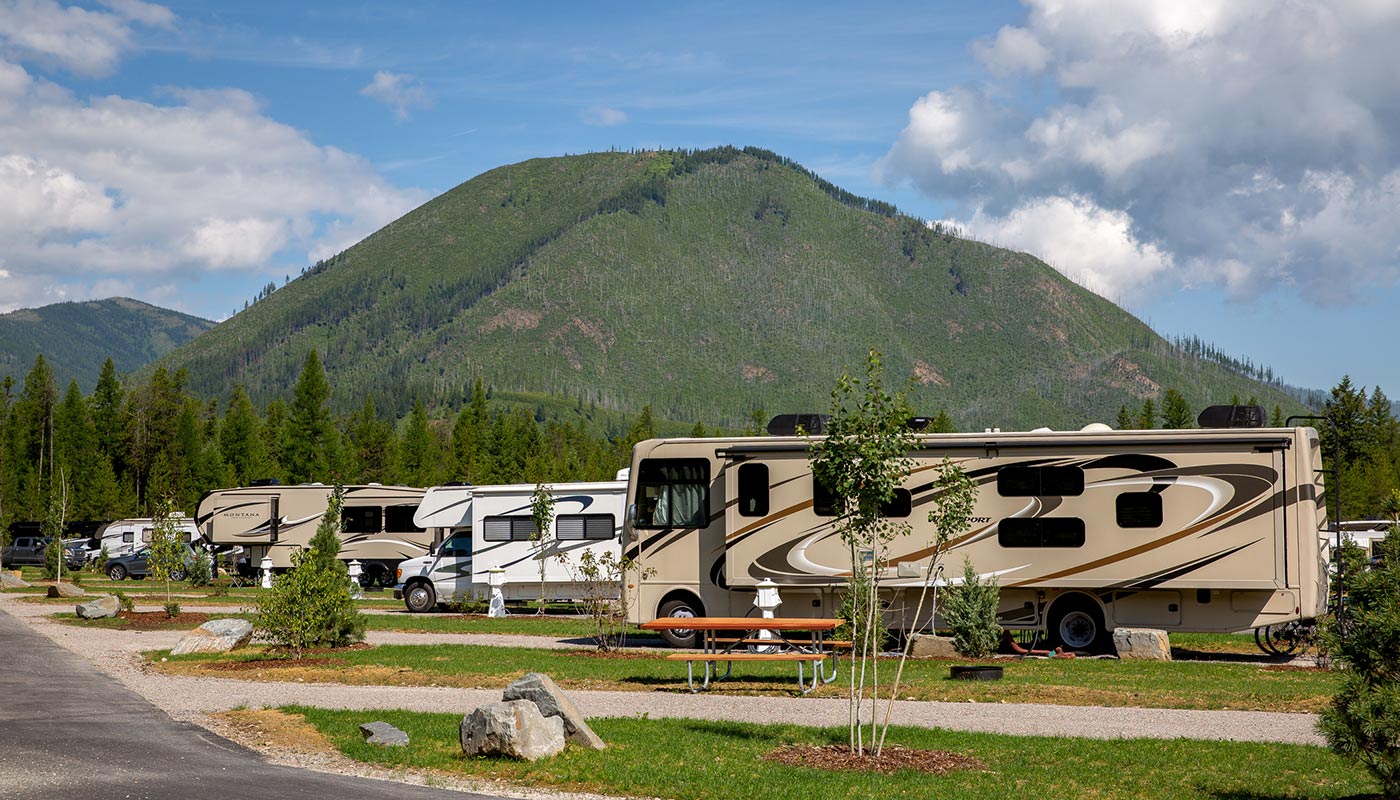 Prepare to be enchanted by the rugged beauty of Glacier Park in Montana. Known as the "Crown of the Continent," this park is famous for its towering mountains, pristine lakes, and sprawling glaciers.
The iconic Going-to-the-Sun Road is a must-drive route, offering awe-inspiring views at every turn. Many Glacier Campgrounds and Apgar Campgrounds provide RV-friendly accommodations amidst this stunning wilderness.
6. Zion National Park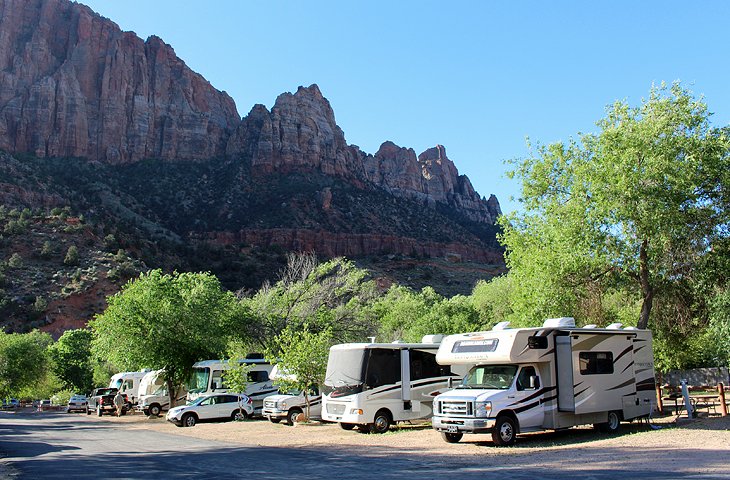 Zion Park in Utah will leave you awe-struck with its towering sandstone cliffs and deep, narrow canyons. Embark on thrilling hikes such as Angel's Landing or The Narrows.
South Campground and Watchman Campground offer RV sites conveniently located near the park's main attractions, ensuring easy access to the wonders of Zion.
7. Joshua Tree National Park
Experience the otherworldly beauty of Joshua Tree Park in California. This desert oasis is known for its unique Joshua Trees, rugged rock formations, and star-studded night skies.
Joshua Tree Lake RV & Campground and Black Rock Campground offer RV facilities, allowing you to immerse yourself in the park's natural wonders.
8. Yellowstone National Park
Venture into the world's first national park, Yellowstone Park, and be greeted by a wonderland of geothermal features, majestic waterfalls, and diverse wildlife. Witness the iconic Old Faithful geyser erupt and marvel at the vibrant colors of the Grand Prismatic Spring.
Bridge Bay Campground and Grant Village Campground provide RV camping options within the park, enabling you to explore its wonders at your own pace.
9. Great Smoky Mountains National Park
Nestled on the border of Tennessee and North Carolina, Great Smoky Mountains Park is a true gem of the Eastern United States. Known for its misty mountains, vibrant forests, and cascading waterfalls, this park offers a serene retreat for RV travelers.
Camping Gear SALE!
We have teamed up with Ape Survival to give you a huge 25% off EVERYTHING on their store! They have camping gear, hiking gear, survival gear and much more, all at 25% off when you click the link below.
SHOP NOW
Cades Cove Campground and Smokemont Campground provide RV-friendly facilities, allowing you to immerse yourself in the beauty of the Great Smoky Mountains.
10. Grand Canyon National Park
No list of national parks would be complete without the majestic Grand Canyon Park in Arizona. Carved by the mighty Colorado River, this breathtaking natural wonder offers awe-inspiring panoramic views and jaw-dropping sunsets.
Mather Campground and Desert View Campground offer RV camping options near the South Rim, allowing you to immerse yourself in the Grand Canyon's grandeur fully.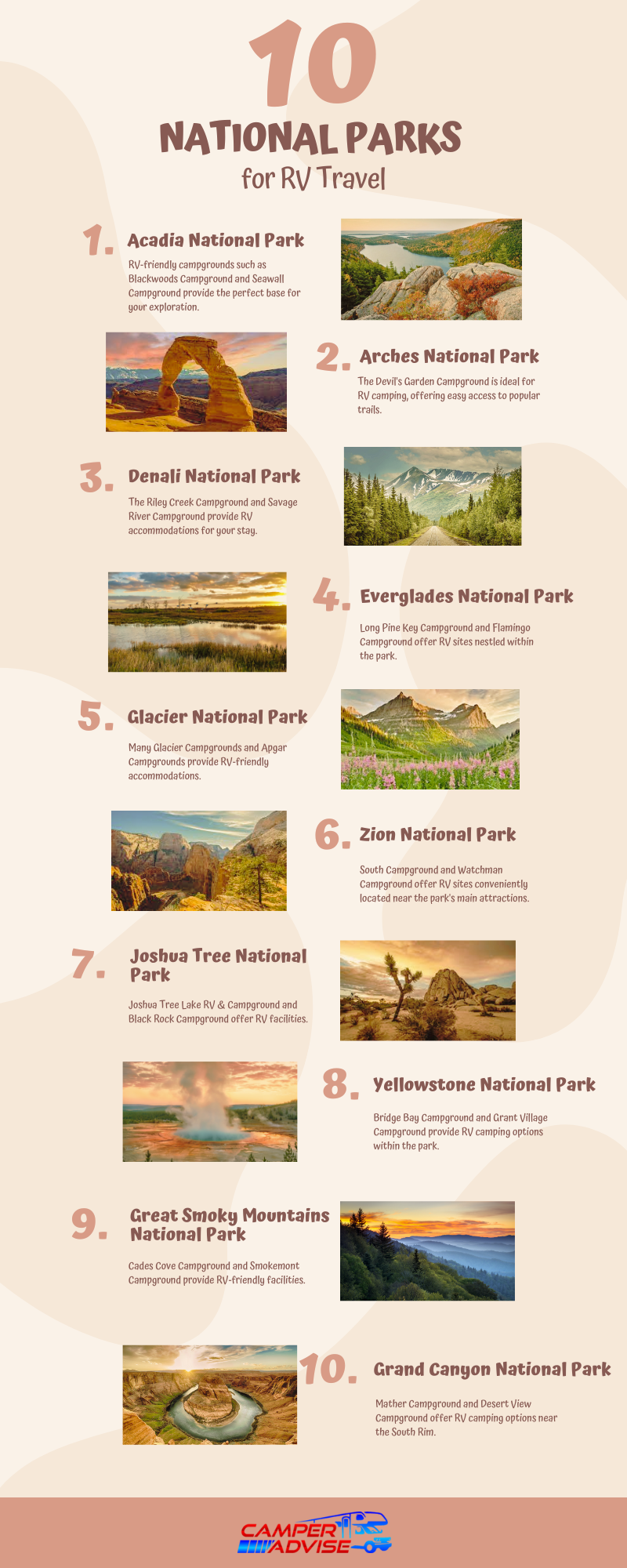 Tips for a Safe and Memorable RV Travel
Plan your route: Take into account the distance, road conditions, and the time it will take to travel between parks.
Conduct thorough maintenance checks: Check the tires, brakes, fluids, and all the essential systems of your RV.
Pack smart: When it comes to packing for an RV trip, less is more. Prioritize the essentials and pack lightweight, multi-purpose items.
Stay connected: Make sure to have a reliable communication device, such as a mobile phone or two-way radio, and keep a list of emergency contacts.
Be weather-aware: Be cautious of extreme temperatures, storms, or other weather-related hazards.
Practice safe driving: Driving an RV requires extra attention and care. Familiarize yourself with the RV's size, weight, and handling characteristics.
Respect wildlife and nature: Respect the natural habitats by observing wildlife from a safe distance and never feeding or approaching them.
Stay prepared for emergencies: Carry a well-stocked emergency kit, extra batteries, a fire extinguisher, and a roadside assistance plan.
Hit the Road in an RV and Discover Nature's Finest!
RV travel opens a world of possibilities for exploring the top national parks. It offers the freedom to chart your own course, the comfort of a home on wheels, and the chance to immerse yourself in nature's wonders.
Whether you're a solo adventurer, a couple seeking new experiences, or a family making unforgettable memories, the above-mentioned national parks are surely worthy of being part of your bucket list.
And to make your RV travels and park visits safer and more memorable, check out Camper Advise.
So, pack your bags, hit the road, and let the adventure begin!